Get ready to elevate your smoke sessions to a whole new level at 660 Vape and Smoke Shop KC! Introducing the mind-blowing Cutleaf THCA Pre-Rolls, designed to give you the ultimate smoking experience.
Premium Pre-rolls, crafted from Hemp flower
These premium prerolls are expertly crafted from whole hemp flower packed with THC, CBD, and CBG – offering a blend of cannabinoids that's out of this world! 🚀 Each display includes 10 units, with 2 fresh prerolls per pack, ensuring you're always set to light up in style.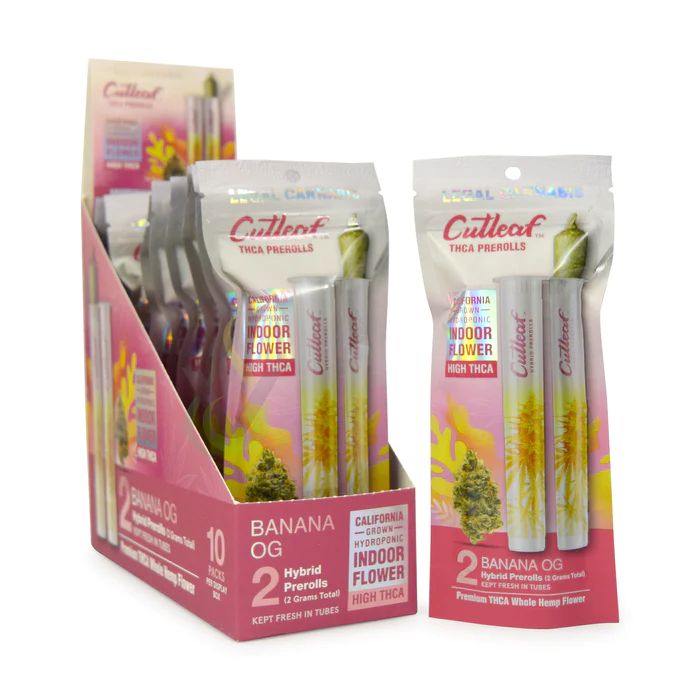 Kansas City's premium Smoke Shop and Legal cannabis Store
Individually sealed in tubes for maximum freshness, these prerolls feature the tantalizing Banana OG strain, grown indoors with care in sunny California. With no additives, chemicals, or pesticides, you can rest assured you're enjoying a pure and unadulterated smoke.
Special Discount and Deals for Smokers
hurry up smokers, entice your taste buds, Buy pre rolls, hemp nugs, CBD infused gummies, hemp oil and much more at special price
At 660 Vape and Smoke Shop KC, the Legal cannabis store and head shop in Kansas city, we've got you covered with the best of the best. So, don't miss out on this exclusive offer – experience the unmatched quality of Cutleaf THCA Pre-Rolls today! 🔥✨ #premiumsmoke
#CutleafTHCA #smokeshopkc #vapeshopKC #legalcannabis #kcmo #kcsmoke #cutleaf #buycannabis
CUTLEAF PREMIUM THCA PRE-ROLLS 2GM/2CT/10PK
Product Details:
Premium THC-A Whole Hemp Flower Pre-Roll
10 Packs of 2 Count 2 Gram Pre Rolls
Kept Fresh in Individual Tubes within a Zip Sealed Bag
California Grown, Indoor Hydroponic Grown
No Additives, No Cutting Agents, No Pesticides
Federal Farm Bill Compliant, Less than 0.3% D9-THC
Buy it from 660 Vape and Smoke Shop KC
660 E Blue Ridge Blvd, Kansas City, MO 64145
📞 (816) 942-0151
💻 Website: 660vapeandsmokekc.com