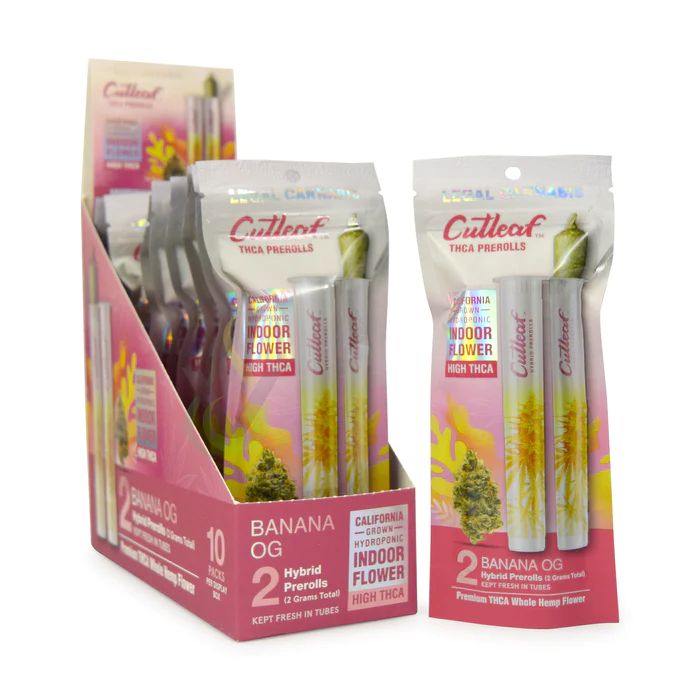 Elevate your customers' smoking journey with an exclusive touch of sophistication through our remarkable Cutleaf THCA Pre-Rolls. Meticulously handcrafted using whole hemp flowers enriched with THC, CBD, and CBG, these pre-rolls offer a premium, full-spectrum cannabis experience that's both legal and indulgent. By introducing Cutleaf THCA Pre-Rolls to your collection, you'll distinguish your inventory with a product that exudes excellence.
Buy premium Hemp flower in Kansas City
Each exquisitely designed display showcases 10 units, with every unit containing 2 freshly rolled pre-rolls. These pre-rolls are individually sealed within tubes to preserve their peak freshness and uncompromised quality.
Imbued with the renowned Banana OG strain, cultivated with expertise in California's hydroponic indoor environments, these hybrid prerolls promise an unparalleled encounter.
The whole flower used is 100% organic, ground with care, and free from any additives, chemicals, or pesticides, guaranteeing a genuinely authentic and unadulterated encounter for your clientele.
Wide selection, premium Hemp & CBD Store KC
Rest easy knowing that our Cutleaf THCA Pre-Rolls adhere to the standards of the Federal Farm Bill. Rigorously lab-tested and meticulously crafted, they promise a journey that's not only exceptional but also safe and compliant.
By incorporating these pre-rolls into your store, you're embracing a growing community of cannabis enthusiasts who are on the lookout for a premium, legal, and secure smoking affair.
Harmonious blend
The amalgamation of THC, CBD, and CBG in our pre-rolls creates a symphony of cannabinoids that offers an experience like no other. This harmonious blend ensures a robust encounter that appeals to the connoisseurs and novices alike.
Don't miss out on the chance to elevate your product range with these unparalleled pre-rolls. Witness your patrons return repeatedly, drawn by the unmistakable quality and luxury that only Cutleaf THCA Pre-Rolls can provide.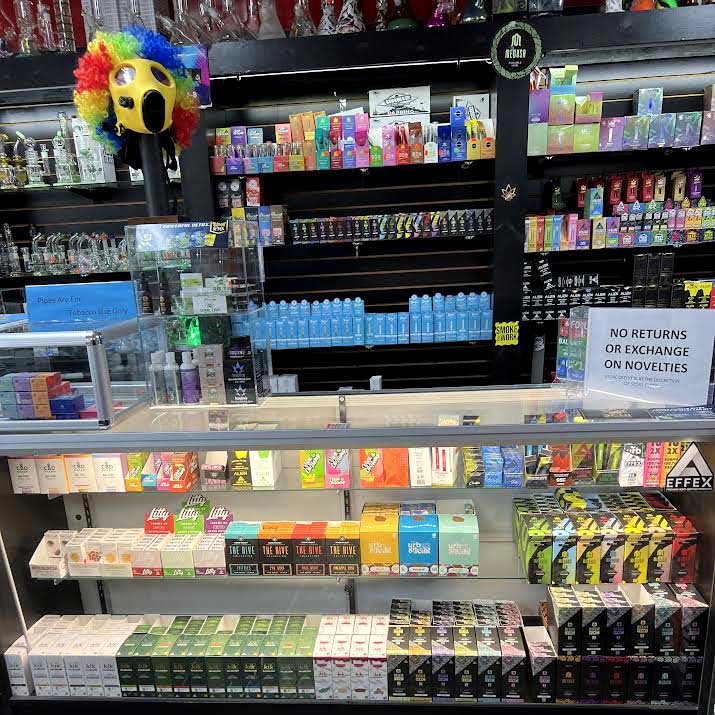 Why 660 Vape and Smoke shop KC
Enhance your smoking voyage with the distinguished Cutleaf THCA Pre-Rolls, meticulously crafted from top-tier hemp flowers enriched with THC, CBD, and CBG.
At 660 Vape and Smoke Shop KC, we're devoted to delivering the utmost array of smoking accessories, vaporizers, e-juices, and more.
Our unwavering commitment to excellence encompasses every product in our selection, ensuring your journey remains nothing short of extraordinary.
Discover our premium assortment, making us your premier destination for all your smoking and vaping needs in Kansas City.