In the electrifying realm of vaping, where innovation reigns supreme, Vaporesso emerges as a true pioneer of cutting-edge devices. Taking center stage in their formidable lineup is the Vaporesso ECO NANO, a device that flips the script on vaping by seamlessly melding advanced technology, sleek design, and unparalleled performance.
Slick Design that's All About the Vibes:
Listen up, because the Vaporesso ECO NANO hits the sweet spot between style and function. It's contoured like it's giving your hand a firm handshake, and that style? Oh man, it's dripping with modern-classy vibes that practically scream "This is top-tier, my friend!"
Crafted with precision, the ECO's sleek lines and strategically placed buttons ensure that your fingers have a field day. Whether you're a vaping virtuoso or a rookie taking those first puffs, the ECO's style will leave a lasting impression on your senses.
Next-Gen Brainpower:
Underneath its suave exterior lies a treasure trove of smart technology. The Vaporesso ECO NANO is all about quick firing, spot-on temperature control, and a bunch of safety features that let you vape without a worry in the world. It's like the ECO's saying, "You focus on that delicious vape, I've got everything else covered."
Your Vape, Your Rules:
Listen closely, because Vaporesso gets you – it's all about individuality. The ECO isn't messing around; it's like your personal vaping confidant. Feeling the need for control? Crank up that wattage and temperature like a boss. This is your domain – flavors, clouds, whatever tickles your fancy. You're steering the ship, making this vaping adventure dance to your tune.
Flavors and Clouds Like No Other:
Now, brace yourself for this: the Vaporesso ECO blows your mind with its jaw-dropping flavor and cloud performance. This bad boy gets along famously with various coils. Whether you're after thick clouds that could rival a fog bank or savoring every drop of your favorite e-liquids, the ECO has your back. Every hit? A straight-up feast for your senses.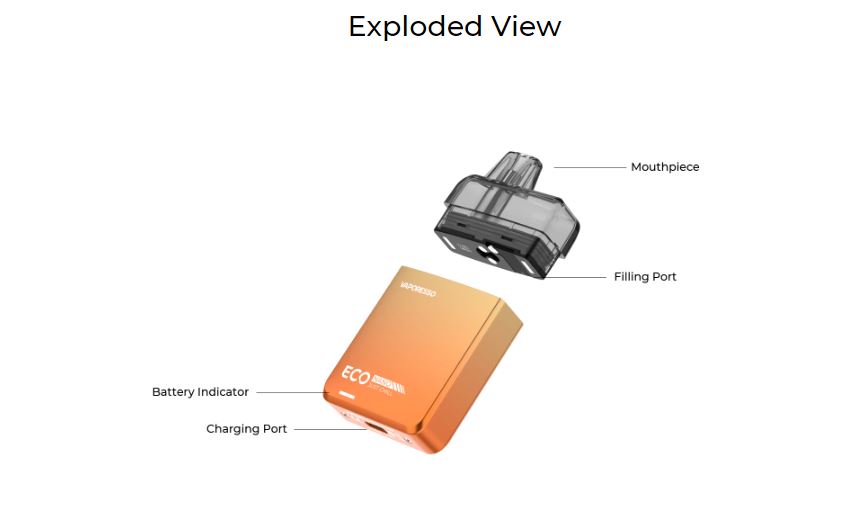 Juice for Days:
Ever been caught with a dying battery mid-vape? That's ancient history, my friend. The Vaporesso ECO's got battery management down to an art form. It's like having a guardian angel for your battery life, ensuring smooth vaping sessions that stretch on and on. Whether you're on the move or chilling at home, the ECO's got your back – no pesky interruptions here.
Final Word: Vaporesso ECO from 660 Vape and Smoke Shop KC
The Vaporesso ECO roars with Vaporesso's unwavering commitment to innovation and top-tier quality. Whether you're a vaping virtuoso or a newcomer ready to dive in, the ECO is your wingman. With its technological prowess, customizable features, and mind-blowing performance, this device turns your vaping journey into an unparalleled experience – just like you.
In a vaping world bursting with gadgets, the Vaporesso ECO NANO stands tall with killer design, next-gen tech, and mind-blowing capabilities. Level up your vaping game with the ECO, taking you on a journey through flavors, clouds, and ultimate satisfaction. Your voyage into next-level vaping begins with the Vaporesso ECO, brought to you by 660 Vape and Smoke Shop KC. Prepare to rock your vape like a true legend!
Visit Us Today
Experience the world of vape tanks firsthand at 660 Vape and Smoke Shop KC. Swing by our store, conveniently located at 660 E Blue Ridge Blvd, Kansas City, MO 64145. Discover the perfect vape tank that suits your style and enhances your vaping journey.
Visit Premium Vape and Smoke Shop in Kansas City
Ready to explore our extensive range of vape tanks? Visit us at our smoke shop in Kansas City: 660 Blue Ridge KC Your vaping adventure awaits! #VapeTanks #KansasCityVaping #660VapeAndSmokeShopKC