Introducing the Maeng Da Red from Club13 – a sublime choice akin to our esteemed Bali Red. This strain, steeped in Maeng Da tradition, is bound to deliver the tranquility and solace your customers seek. With its familiar name, even newcomers to kratom will find comfort in its embrace.
In essence, Red-Vein Kratom bears distinct red-hued veins and stems on its leaves. Currently, it stands as the most sought-after and widely accessible variant in the kratom realm. Flourishing abundantly across Southeast Asia, this cherished strain comes with sub-categories bearing names reflective of their places of origin. Each sub-category boasts subtle distinctions. For instance, our Maeng Da Red strain imparts a soothing effect.
Why opt for Capsules?

Kratom capsules present an excellent gateway to the world of Kratom, catering to both novices and seasoned users. Firstly, the capsule form renders the taste virtually imperceptible. Secondly, they are pre-measured for utmost convenience, perfect for those on the move. Each capsule holds around 0.950 grams of fine powder.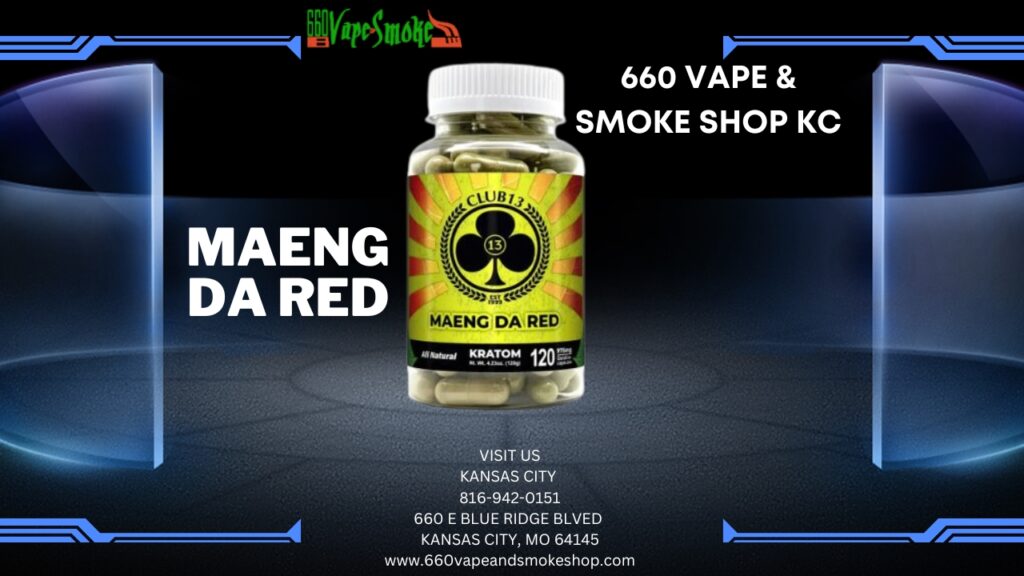 Inquisitive about the origins of our Kratom?

Look no further. Revel in our Kratom, sourced directly from the opulent jungles of the South Pacific. Club 13 Kratom collaborates closely with local cultivators, ensuring the finest offerings from the tropics.
Moreover, Kratom thrives under specific conditions – heat, humidity, and precise soil pH. This makes regions like the balmy expanses of Thailand, Indonesia, Papua New Guinea, and neighboring countries along the Pacific Rim ideal for its growth. Kratom's uniqueness lies in its demand for immaculate soil pH to yield the finest harvest. In Kratom's lexicon, "immaculate" equates to a pH range between 5.5 and 6.5, coupled with rich humus levels, permeability, and exceptional fertility.
Club 13 Kratom Strains
Whether in various sizes or encapsulated for diverse preferences, seize a bottle of our Maeng Da Red Kratom Capsules today and discover why our customers cherish Club13 Kratom.
Visit Premium Vape and Smoke Shop in Kansas City
Ready to explore our extensive range of vape tanks? Visit us at our smoke shop in Kansas City: 660 Blue Ridge KC  Your vaping adventure awaits! #VapeTanks #KansasCityVaping #660VapeAndSmokeShopKC