PROPOD GT is the answer of wondering where your inspiration will take you and its compact
dimensions make It perfect for dally outfits.
Enjoy Maximum Fun in PROPOD GT
Start to Enjoy It with Ease
The auto draw desi gn spares your attempt to shlifully use a new device. Just inhble and get indulged In the great flavor.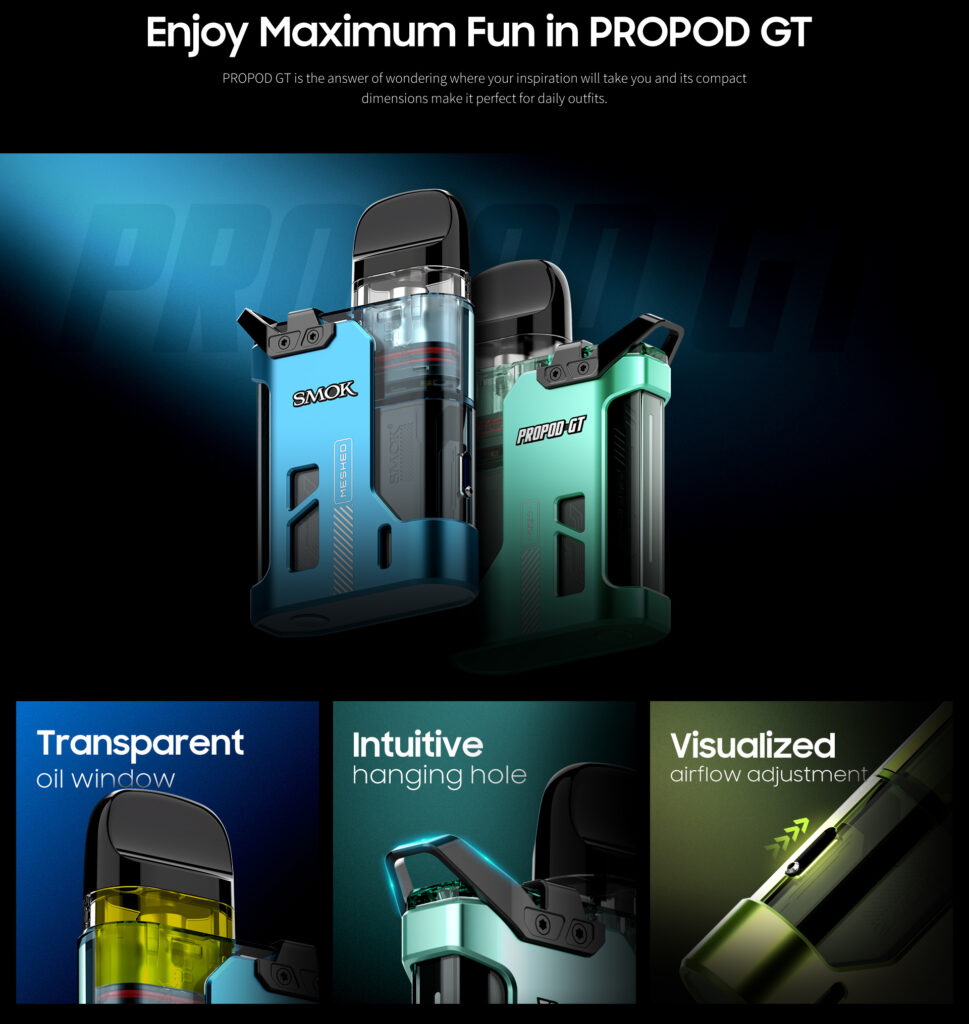 The essence of sustainable development is constantly optimizing experience in the course of things.
When it comes to PROPOD GT, it involves the innovative appearance design,
eye-catching lighting effect, friendly wide pod compatibility and so on.
It delivers a smooth and powerful performance to give you greater reliability and responsiveness
Innovation keeps changing the vaping experience!
Revolutionary Design
The Smok PROPOD GT Kit unveils an innovative appearance that commands attention, accompanied by captivating lighting effects. Its striking aesthetics are not merely cosmetic; they enhance the overall vaping experience.
Reliable Performance
Smok PROPOD GT's focus on performance extends beyond its design. This kit delivers smooth and robust performance, ensuring that you can rely on it for consistent satisfaction. Its power and responsiveness are designed to meet the expectations of vaping enthusiasts.
Compact Convenience
Designed to seamlessly integrate into daily life, the Smok PROPOD GT is compact and portable. Its 700mAh built-in battery, complemented by Type-C charging, ensures you won't be caught powerless when you need it most. It's the perfect companion for your everyday vaping needs.
Intuitive Controls
Smok PROPOD GT keeps things simple with its user-friendly approach. Adjusting the lighting effect is as easy as double-clicking the power button, allowing you to switch between two modes effortlessly. Smart detection enhances your understanding of the device's status, while precise air inlet control lets you fine-tune your vaping experience.
Leakproof Innovation
 The PRO POD GT takes measures to eliminate leaks with a triple-layered pod design. By repositioning the filling port to the top, it not only simplifies refills but also reinforces leak resistance. You can enjoy your vaping sessions without worrying about mess or wasted e-liquid.
PROPOD GT Wide Pod Compatibility
The Smok PROPOD GT Kit embraces versatility with its wide pod compatibility. It accommodates all Novo, Novo 2, and Novo 2x series pods, offering a broad range of options to cater to your preferences. This kit includes Novo Pod Meshed 0.8ohm and Novo Pod Meshed 0.6ohm to further enhance your vaping experience.
Innovation in Action
 Represents innovation at its finest, constantly evolving to elevate your vaping experience. Smok's commitment to pushing the boundaries of vaping technology ensures you're always at the forefront of the industry.
. 1 x PRO POD GT Device (700mAh)
. 1 x Novo Pod Meshed 0.80 (2ml)
. 1 x Novo Pod Meshed 0.60 (2ml)
.1xType-C Cable
. lx User Manual