Embark on a vaping journey like no other with the state-of-the-art OXVA XLIM Pod Kit, available exclusively at 660 Vape and Smoke Shop KC. This exceptional device boasts a long-lasting 900mAh battery and offers adjustable wattage, accompanied by support for freebase e-liquids through its 0.6Ω cartridge, all within a capacious 2ml capacity.
Personalized Performance and Aesthetics
Select from an array of 11 striking colors to match your style while enjoying a top-notch vaping experience. The integrated OLED screen, customizable airflow, and wattage settings empower you to tailor your sessions precisely to your liking.
Effortless Charging, Recognized Excellence
Experience swift charging times, with the OXVA XLIM reaching a full charge in approximately 30 minutes, ensuring minimal downtime and optimal satisfaction. This device's prowess hasn't gone unnoticed – it has secured its reputation as one of the premier pod systems in 2022, applauded for its innovation and remarkable performance.
Parameters:
Dimension: 24.014.0111.0mm
Weight: 45g
Output power: 5-25W
Cartridge capacity: 2ML
Battery capacity: 900mAh
Screen size: 0.42-inch
Material: Aluminum alloy+PCTG
Charging: DC 5V/1A, Type-C
Spec of Coils: 0.6Ω (20-25W) A1 & 0.8Ω (12-16W) A1
Features:
ERGONOMIC AFC
Airflow control on the side to find your best draw precisely.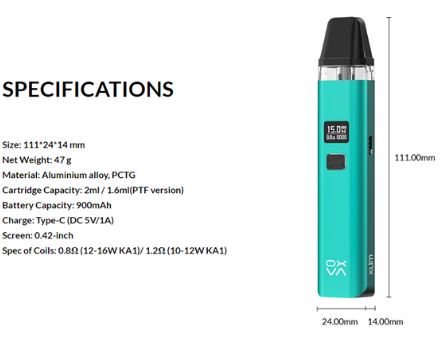 900mAh built-in battery
0.42″ OLED mini screen
25 Max output power
Auto-draw & Manual
5 kinds of colors are available
Green Lemon/Blue Green/Black Red/Arctic Ice/Black White
Standard & TPD version & PTF version
Packages:
1* Xlim device
1* 0.6Ω Xlim cartridge(pre-installed)
1* 0.8Ω Xlim cartridge
1* Type-C Cable
1* User Manual
Reveal the unparalleled capabilities of the OXVA XLIM Pod Kit at 660 Vape and Smoke Shop KC. Elevate your vaping escapades with a device that seamlessly combines cutting-edge technology, elegance, and convenience.
Visit (Get Direction): Smoke Shop in Kansas City
📍 Location: 660 E Blue Ridge Blvd, Kansas City, MO 64145
📞 Contact: (816) 942-0151
💻 Website: 660vapeandsmokekc.com