Introduction: Pioneering a New Era in Vaping
Amidst a sea ofDisposable Vape s, the KROS Wireless 17ML emerges as an epitome of ingenuity and design brilliance. It transcends mere functionality, ushering in a paradigm shift in the vaping realm. Let's delve into an exploration of its revolutionary attributes.
Disposable Vape Design: Streamlined and Contemporary
The KROS Wireless Disposable Vape boasts a design that epitomizes cutting-edge aesthetics. It seamlessly melds technological progress and user-centric design into a visually captivating package. From the integrated display to its ergonomic contours, it exudes an air of sophistication.
Performance: Beyond the Ordinary
Unmatched Battery Longevity and Charging:
Sporting a 550mAh battery, this device offers an extraordinary lifespan. The game-changing wireless charging feature catapults it into a league of its own.
Corex ECO Mesh Coil:
The innovative Corex mesh coil ensures every draw is velvety, uniform, and bursting with flavor.
E-Liquid Capacity and Puff Count:
With a voluminous 17ML e-liquid capacity and over 9000 puffs, this device promises enduring companionship.
3-Level Airflow Control:
This attribute introduces a layer of personalization, allowing users to tailor their vaping experience to perfection.
Flavor Journey: A Gastronomic Expedition
The KROS Wireless beckons with a selection of 13 tantalizing flavors, catering to every discerning palate. From the invigorating "Mint Lemonade" to the exotic "Aloe Sakura Grape," the flavor repertoire is both extensive and distinctive.
Unveiling the Features: A Comprehensive Dive
5% Nicotine Salt:
This optimal concentration delivers the gratifying throat hit and nicotine contentment sought by both seasoned vapers and newcomers alike.
Integrated Display:
More than a technological marvel, it serves as a utilitarian tool, enriching the user experience by providing insights into e-liquid and battery status.
Wireless Charging:
A feature seldom found in disposable vapes, showcasing KROS's dedication to innovation.
Eco-Conscious Coil:
The Corex ECO Mesh Coil not only guarantees exceptional flavor but also aligns with a more sustainable approach.
Who is the KROS Wireless Suited For?
For the Novice:
Its intuitive design makes it an exceptional entry point for those venturing into vaping.
For the Connoisseur:
With advanced features and customization options, it entices even the most experienced vapers.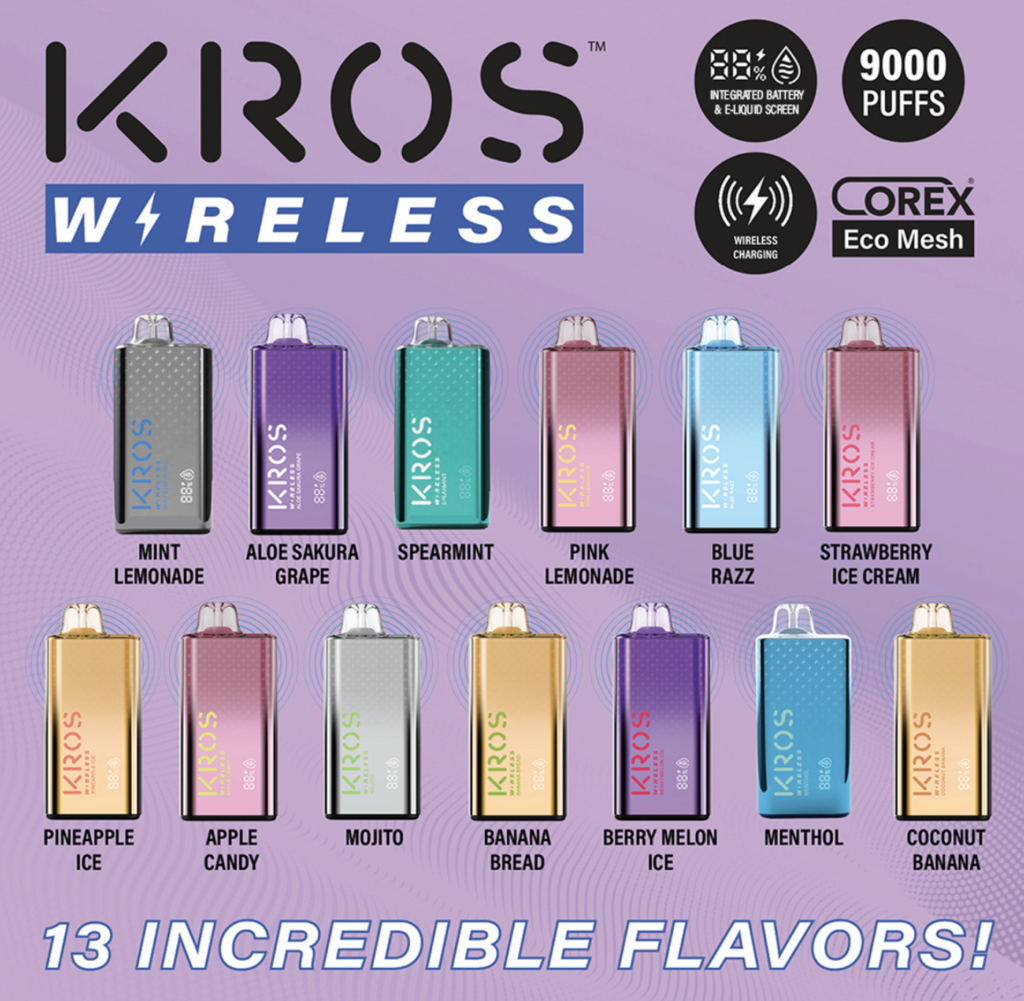 For the Environmentally Mindful:
The Corex ECO Mesh Coil represents a stride towards conscientious vaping.
VII. Strengths and Weaknesses: A Candid Assessment
Strengths:
Innovative and sophisticated features
Diverse array of flavors
Robust battery life with wireless charging
Environmentally responsible coil

Weaknesses:
May be perceived as intricate by some
Could bear a premium price tag
VIII. Conclusion: A New Dawn in Vaping
The KROS Wireless 17ML 9000 Puffs Disposable Vape transcends the realm of a mere product; it is a declaration. It signals to the industry that innovation, user satisfaction, and environmental stewardship can harmoniously coexist within a single device.
The scrupulous design, thoughtful functionalities, and unwavering commitment to excellence embodied by the KROS Wireless are nothing short of admirable. The integrated display, wireless charging, and eco-friendly coil establish new benchmarks.
From the initial gaze to the final draw, the KROS Wireless captivates, astonishes, and gratifies. It is more than a vaping tool; it is a harbinger of what the future may hold in this industry.
Fundamentally, the KROS Wireless extends an invitation to partake in a future that can be experienced today.
Visit Premium Vape and Smoke Shop in Kansas City
Ready to explore our extensive range of Kros Wireless 9000? Visit us at our smoke shop in Kansas City: 660 Blue Ridge KC  Your vaping adventure awaits! #VapeTanks #KansasCityVaping #660VapeAndSmokeShopKC